STORY
The K-Beauty market has taken the world on by storm – and for good reason! But with that comes a million decisions to make and lots of products to try.
We have taken the best hydrating, detoxifying and collagen boosting ingredients - and combined them into what is the most effective skincare on the market.
Seoulfull is vegan, unisex, sustainable and made of high quality organic and natural ingredients.
GLOW HERE
SEOULFULL'S GOOD KARMA K-BEAUTY FACE OIL :: 7 INGREDIENTS
+ organic citrullus lanatus (watermelon seed) oil:  hydrates, reduces sun damage, fights acne, detoxifies, diminishes dark circles
+ organic simmondsia chinensis (jojoba) oil: moisturizes, reduces wrinkles and fine lines, fights bacteria
+ organic rosa canin (rose hip seed) oil: reduces scars, hydrates, corrects dark spots and fine lines, stimulates collagen, combats free radicals that cause aging, helps with eczema and scarring
+ organic vitamin e oil: reduces the appearance of scars, combats dry skin
+ organic sandalwood: reduces signs of aging, exfoliates, enhances brightness
+ organic frankincense: reduces the appearance of large pores and acne blemishes, tightens skin
+ natural fragrance oil (acetone-free, phthalate-free, paraben-free) OR fragrance-free
:: In Korea, the number 7 symbolizes the concept of good luck and all positive benefits that surround it ::
GLOW HERE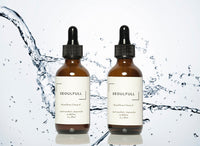 Testimonials
Seoulfull is such an obsession. The oil is so good, it's honestly amazing when I put it on at night & wake up the next morning. I'll go to sleep with the oils on my face & wake up with glowy, dewy skin. I love the oils so much I even apply them to my husband's face. I highly recommend Seoulfull's products and Elaine is an absolute gem of a human.

LAURYN EVARTS BOSSTICK of The Skinny Confidential
Seoulfull dramatically calmed down the redness on my sensitive sternum skin - I use it religiously and my skin absolutely loves it! 

ASHLEY BORDEN, celebrity fitness consultant and lifestyle expert, featured trainer on E!'s Revenge Body with Khloé Kardashian
Seoulfull Skin Food has restored my skin's elasticity and refined my skin's surface dramatically. It is the most essential product in my skincare regimen. This is a must-have!

WENDY STARLAND, singer/songwriter/producer, discovered and developed Lady Gaga
Seoulfull Skin Food is one of the most luxuriating face oils on the market. It will change your skin and make you feel beautiful!

DR. NINA GRAY, YouTuber / health and wellness influencer, dentist
I love the soothing smell and feel. I love knowing there are seven natural and meaningful ingredients. I really look forward to my ritual of warming some drops and applying them two or three times a day. It feels a little magical and like a gift to myself, especially during a particularly stressful time.

KIMBERLY KLEID, Television Executive
Love Seoulfull Skin Food!  It's a really great product.  My face is so soft and happy and I put the extra on my arms and legs.  


CATHY MERENDA, music executive
I think the formula really speaks for itself. It's one of those skincare miracles you have to experience first hand and have your own personal "a ha" moment. 

STACY COX, nationally known beauty expert (KTLA, Dr. Oz, The Doctors, Access Hollywood, OWN) and licensed skin care therapist